Holiday music and Sean's Music Factory music.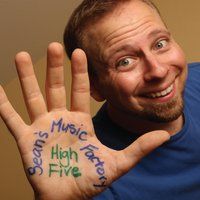 As a 3rd grader walking through an ordinary day, Sean Mendelson discovered the power of music. The sound of guitar drew him to a room where a friend was taking a lesson, and from that time forward he never wanted to put his guitar down. He began writing music at 16 and has found that songwriting is his greatest passion. He loves taking inspiration from children and their off-the-wall ideas. 
 
In 2013 Sean created Sean's Music Factory: an interactive performance-based music experience. The band also includes his kids Logan and Jillian, Puppet Sean, The Tickle Monster, and of course, the audience. A strong advocate for children's musical development, Sean wants his classes and shows to feel like a living, breathing, growing, rocking musical community. Through his music, he hopes to cultivate as big a musical community of children and their caregivers than he can possibly imagine. While some of the music he writes is traditional children's fare, he also writes in alternative rock and modern styles to get the parents to not just listen but actually enjoy the music right along with their kids.

His childrens' albums include "Crank Out The Music" (2013) and "High Five" (2014) following a successful Kickstarter campaign. 
 
When he's not cranking out the music for his tiniest fans and high-fiving their caregivers, Sean is teaching Music Together classes Music Together is an internationally renowned, research-based, early childhood music program. Sean describes his classes as "45 minutes of relaxed silliness, sneaking in the educational elements each week." He has steadily developed a following as a much-loved teacher across the Bay Area, and started his own licensed Music Together Center in Santa Clara in 2007. He has even taught music to the children of rocketship builders at NASA's Ames Child Care Center. "Sean is a true treasure," a parent shared, "He treats my daughter with respect and kindness and they have a special relationship that I value very much."
 
Before setting off down the path to becoming a kids' rock icon, Sean graduated from Santa Clara University where he studied classical/jazz guitar, played in the jazz ensemble and choir, and majored in music and communications with an emphasis on guitar performance and writing. He played for six years in venues across the San Francisco Bay Area in a band called Mirror Image, which released four albums. He has written musical scores for three documentaries including a piece on legendary baseball player Willie Mays.
 
You can find Sean's Music Factory performing unique, high energy shows all over the Bay Area for children of all ages. This season he is hitting the library circuit, performing the songs from the most recent album as he works towards his lifetime goal of winning a Kids' Grammy. He is currently in development on a TV and web based pilot for children's educational music programming. See you at the next show!